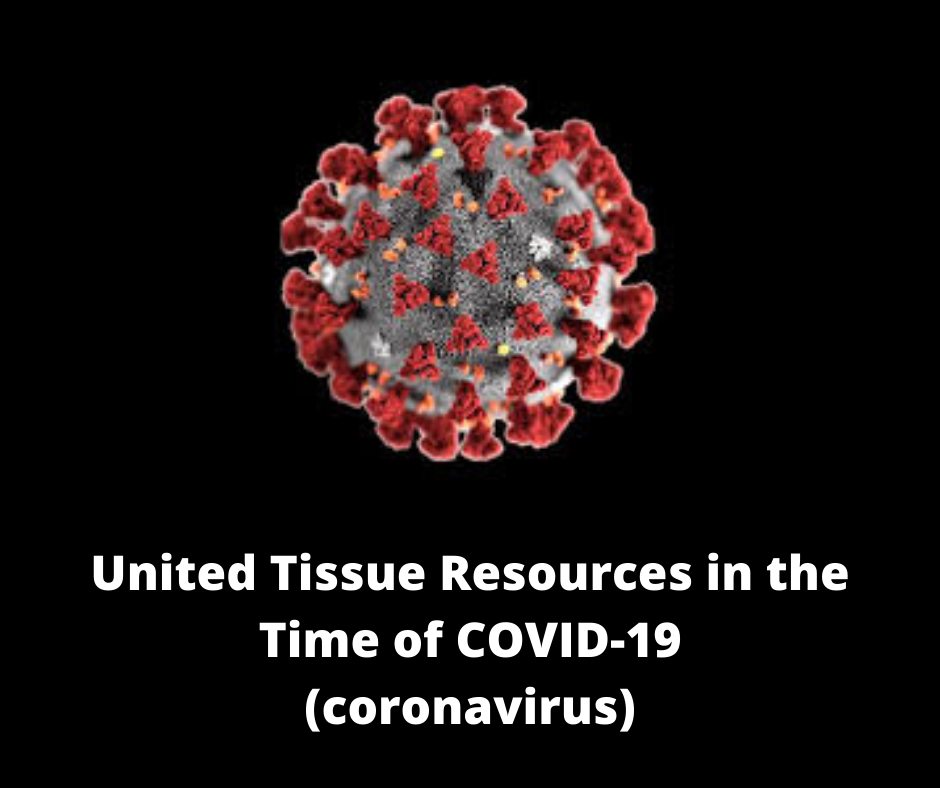 Ensuring safe and quality tissue grafts is central to the mission of United Tissue Resources (UTR). In this time of uncertainty surrounding COVID-19 (coronavirus), it is vital that our healthcare partners and recipients of grafts distributed by UTR, feel secure in the knowledge that these grafts are safe for use. The following list of FAQs details the measures taken, to assure the integrity of the grafts we distribute, to save and enhance lives throughout the UTR service area.
1. Has novel coronavirus been transmitted through tissue transplantation?
No, there are no known cases of novel coronavirus transmission through transplanted tissue. However, genetic material of the novel coronavirus can be detected in blood and body fluids. UTR has joined with our partners who prepare tissue for transplant, to ensure that additional safety measures have been taken.
2. What steps has UTR taken to ensure the elimination of novel coronavirus in donor tissue?
UTR does not accept any donors with a medical diagnosis of novel coronavirus infection in the last 28 days, per AATB recommendations. UTR does not accept donors with an unexplained clinical syndrome that might be consistent with infection (e.g., pneumonia of unknown cause). Additionally, UTR rules-out any donor with risk factors, including travel to countries and high risk areas most affected by novel coronavirus infection.
All tissue distributed by UTR has undergone rigorous donor screening protocols for relevant communicable diseases and donor medical history as required by AATB Standards and FDA regulations.
All implantable grafts are prepared for transplant, using highly effective processes such as aseptic processing, disinfection steps and terminal sterilization designed to eliminate key virus types to non-detectable levels.
3. Are tissue donors routinely tested for novel coronavirus?
No. At this time, there are no commercially available screening tests cleared by FDA for the detection of novel coronavirus in living or deceased donors. The current FDA Emergency Use Authorization (EUA) is for diagnostic testing only.
Discussions are underway, between key officials from AATB, FDA, CDC, NIH, diagnostic testing developers, and testing laboratories regarding the development of tests that could be used to screen tissue donors for novel coronavirus if deemed necessary.
UTR welcomes further discussion on this or any other topic relating to allograft tissue donation. Please direct further inquiries to us, using the contact information below.
Contact Us:
For general inquiries:
Email: tissue@unitedtissueresources.org
To order tissue:
Austin:
Phone: 512-206-1271
Email: orders@unitedtissueresources.org
San Antonio:
Phone: 210-733-8585
Email: tissuedistribution@unitedtissueresources.org
Links:
https://www.aatb.org/content/bulletin-20-9
https://www.fda.gov/vaccines-blood-biologics/safety-availability-biologics/important-information-human-cell-tissue-or-cellular-or-tissue-based-product-hctp-establishments