"It's better to give than to receive."
Those are words that Illiana Turner lives by, but this year, she didn't mind receiving a gift, too.
Illiana is an ICU nurse of 12 years and a dedicated mother of 3. She dedicates much of her time and energy to those who need it most, and when she isn't tending to patients or devoting time to her family, Illiana is studying to become a nurse practitioner.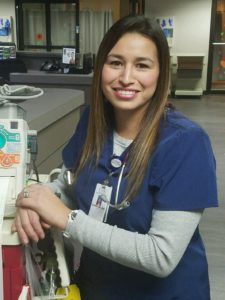 Her mindset hasn't seemed to change over the years- Illiana works hard to brighten the lives of the people around her. What did start to change though, was Illiana's health.
She started to feel pain in her hip. Just like her children, Illiana was very active growing up, and she spent a lot of time cheerleading in junior high and high school. The impact of her cheerleading tumbles magnified after Illiana's three pregnancies. There was so much strain on her hip that its natural fit and gliding motion had a restricted range, something called hip impingement. As time went on, the misaligned joint tore through the tissue that covered the joint, but she tried to ignore the pain.
Eventually, Illiana had to address it. She could no longer stand an entire day at work or participate in day-to-day activities with her children.
"I couldn't play basketball with my oldest son, who is trying out for the school team. I couldn't help my youngest son with his magic tricks or cook with my daughter. My husband would have to help me take food out of the oven because I couldn't bend over."
Thankfully, all of that changed just a few months ago. Last May, a tibialis tendon was removed from a deceased donor and used to repair Illiana's hip. Just a few weeks later, Illiana was back to working, studying and being the mother that she always wanted to be.
"I want others to hear my story, because people need to know that ligament and tendon grafts can help restore quality of life for recipients and their families. I am now able to play outside with my children again, cook meals, go on nature walks with my husband and race up and down the halls at my workplace."
This past year, Illiana started to love life again. She appreciates having the ability to enjoy the little moments, like trick-or-treating with her family.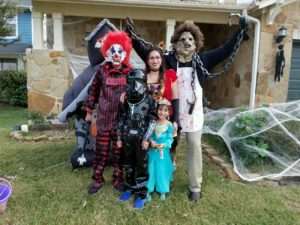 Thanks to the gift of tissue donation, Illiana has the restored ability to give to others. This year, she is feeling extra thankful as the holiday season approaches.
"I typically host Thanksgiving in my home. I will now be able to cook a turkey with all the trimmings for my entire family and try new recipes that we find on Pinterest. We will also be able to go out and walk the Trail of Lights. I am so happy to be able to do all of that again. Christmas is our favorite time!"
Over 1 million tissue allografts are performed each year in the United States. And just last year, United Tissue Resources distributed over 3,000 tissue grafts which were used to save and enhance the lives of Central and South Texans. For more information on how you can become an organ, eye or tissue donor, go to www.donatelifetexas.org.