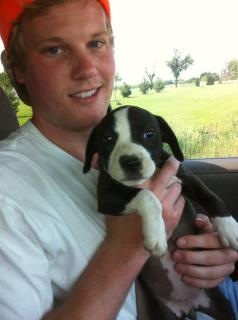 Mathew Robert Clark was a "helper", a young man guided by a strong faith, in his every endeavor. When a tornado devastated Joplin, Missouri in 2011, he drove from Texas to help the victims. On his way back, he rescued an abandoned puppy from the side of the road and named her, Joplin.
Matthew was known for brightening the days of those around him. He was always ready with a smile or joke. He was the one you could count on for a ride to the airport or to help you move. Always an overachiever, he planned to turn his helping spirit into a profession and was well into his senior year as a health science major at Baylor University. He dreamed of a career in the medical field.
On June 3, 2012, at the age of 21, Matthew lost his life in an automobile accident. But even death couldn't stop Matthew, the "helper", from making an impact on the lives of others. Matthew became a tissue donor. His decision made 68 bone and connective tissue grafts available to recipients in 24 states, including his native Texas. His final act was to help those in need.
Have you registered as an organ, eye and tissue donor? Make your wishes known at www.donatelifetexas.org.